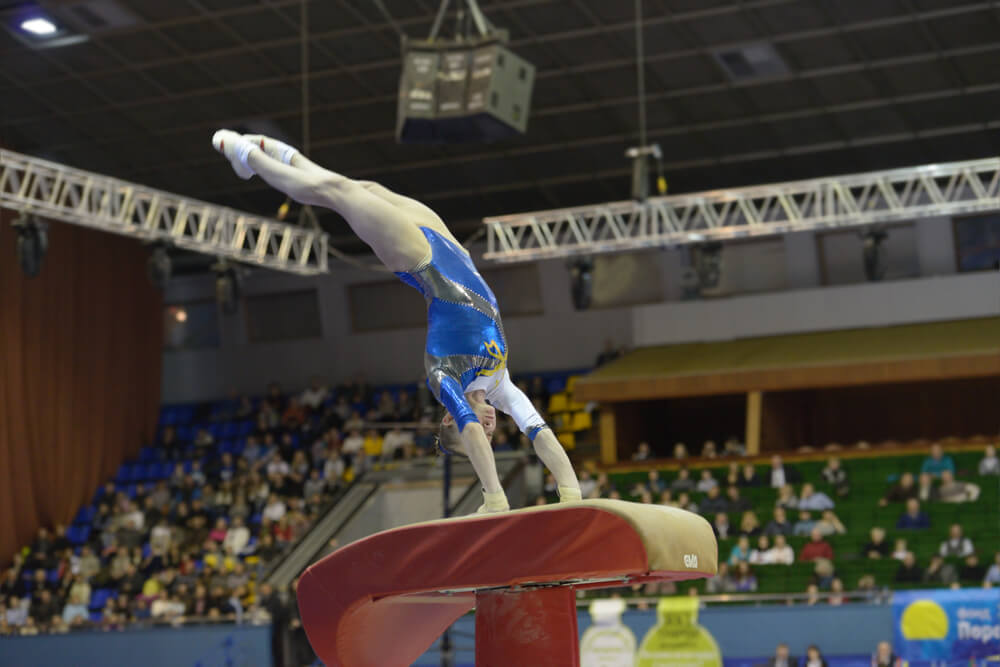 Both men and women can compete in many gymnastics events, but today we're focusing on the events women can participate in. If you're considering taking gymnastics or you're curious about the events, Gold Medal Gyms will explain the different types of gymnastics offered to women.
What Is Artistic Gymnastics?
Artistic gymnastics is the most common form of gymnastics practiced. Both men and women compete in this area. Women compete in four events, including floor exercise, vault, uneven bars, and balance beam. Men compete in six events, including floor exercise, still rings, parallel bars, high bar, vault, and pommel horse. All of these events require immense upper and lower body strength while adding artistic flair to each performance. 
Related Post: How To Improve Your Athleticism
Women's Gymnastics Events
Balance Beam: Gymnasts perform on a beam that is just four inches wide, incorporating acrobatics and dance moves to execute a perfect routine. Some other requirements are that a performer must complete a 360-degree turn on one foot and perform a 180-degree leap or jump. Beam routines can't exceed more than 90 seconds, and gymnasts must not fall off the beam or a point deduction will be assessed. 
Uneven Bars: Gymnasts perform a swinging routine off of a high bar and a low bar. Each dismount requires precision and trust, as one weak grip can ruin the routine. A perfect score requires excellent form, straight body lines, and a stuck landing.
Vault: Gymnasts will run full speed and bounce off a springboard, where they will perform tucks, flips, and various other moves off the vault before they attempt to stick a landing. Judges look for body alignment, the number of twists, and the difficulty of the routine when determining a score. Depending on the events, some gymnasts will only have to vault once, while others have to complete the vault twice using different skill sets.
Floor Exercise: The event with the most artistic freedom, gymnasts get to show off their personalities with gymnastics and music combined along with dance moves. The gymnast must artistically blend dance choreography along with tumbling passes to pull off a successful routine. Each routine lasts no more than 90 seconds and must incorporate certain moves to qualify in the event. 
Related Post: How To Prepare Your Child For Their First Gymnastics Class
Master Gymnastics at Gold Medal Gyms
If you're inspired to go for the gold one day, Gold Medal Gyms can help you get there. Our instructors are trained to help you achieve athletic milestones during your time at the gym. If you're interested in our gymnastics or cheerleading classes, call us today at (417) 732-4100.